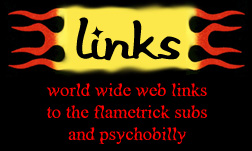 "AWRIGHT, AWRIGHT! THE COMMERCIAL'S OVER! NOW SHADDUP
AN' BRING MAMA ANOTHER BEER!" KEEEEEE-RACK!
to suggest a link or report a defunct url, email FlametrickSubs@hotmail.com.
<THE FLAMETRICK SUBS>
SIN LIKE YOU MEAN IT
an excellent article by marc savlov for the austin chronicle.
BARN BURNIN' BALLYHOO
article by lisa garrett in the weekly wire online.
"Hell hath no fury like Austin's psychobilly sideshow, the Flametrick Subs..."
LAST CALL RECORDS
the french label of the flametrick subs. apparently, you might be able to get some rare
(and real expensive) flametrick CDs directly from them.
HEPCAT RECORDS
order music by the flametrick subs
<PSYCHOBILLY>
PSYCHOBILLY HOMEPAGE
a comprehensive guide to psychobilly around the world.
this site comes to us from the netherlands.
<OTHER BANDS>
MATT HOLE & THE HOT ROD GANG
A band from Corpus Christi, Texas
HILLBILLY HELLCATS
A band from Denver, CO
THE CRAMPS
the primitive originators of the psychobilly movement.
imusic.com
kismiaz
cramps picture gallery
>more links are coming<
in the meantime, why don't you make a
b double e double r-u-n
BEER RUN?
and if you live in texas like we do, you better hope it's not after midnight, or else you're up shit creek without a paddle. hee-hee!